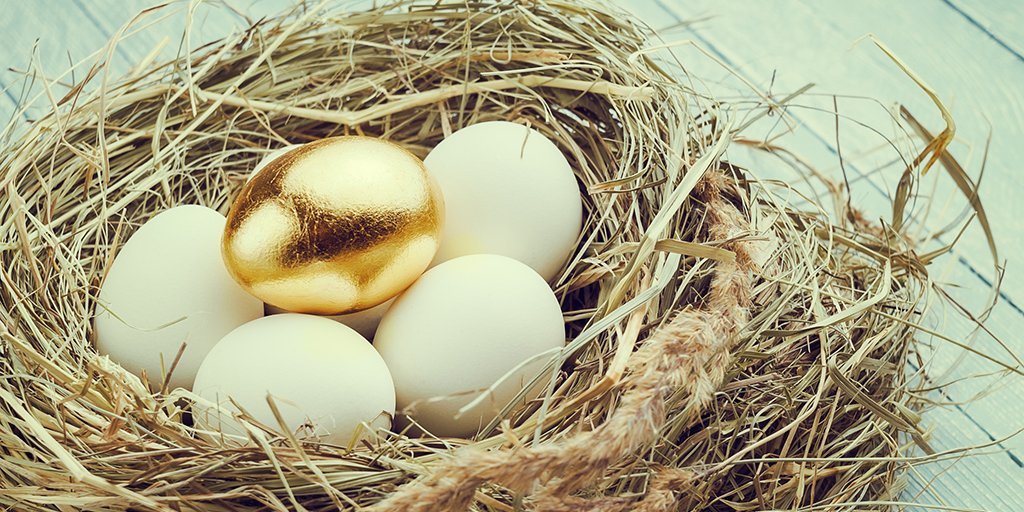 Published on September 19, 2019
Flying the nest: research communication and opportunities beyond the PhD

Why is effective research communication a skill that needs to be learned, and how do you teach it? In the first two parts of our series on research communication, we talked about the benefits as well as some tips and tools for good research communication. In this third and final article, we explore why PhD students and Early Career Researchers (ECRs) in particular struggle with this. We argue that PhD students and ECRs need to better communicate the impact and benefits of their work to further their career prospects, both inside and outside of the research community, and discuss the types of exercises and toolkits that can help them develop this key skill.
A 2014 Royal Society report1 claimed that only 4 out of 1,000 PhD graduates pursing a career in academia would become a professor. Today, the odds are not much more promising. The number of academic tenure track positions is declining and there are disproportionally more PhD students than academic jobs2-5. PhD students and ECRs are considering other career options. Yet these young researchers can be hindered in their attempts to leave the academic nest as they are often viewed as 'too academic' by prospective employers.
The onus is not only on these bright graduates to widen their skillset – universities have a responsibility to prepare their students for non-academic careers8. Many institutions recognise the importance of helping PhD students and ECRs develop a transferrable skillset9, and the first step in many of the programmes of which we are aware is training them to communicate their research to non-specialist audiences. This is a crucial skill to facilitate the transition from academia to industry – the ability to explain the impact and benefits of their research clearly and concisely, in a job interview for example. Even if a researcher decides to stay in academia, learning this skill early in their career should help them secure public and private funding and broker new collaborations for their research.
Why do many PhD students struggle to communicate their work with non-specialist audiences?
The PhD journey can be a very solitary endeavour. Without much input from anyone outside of experts in their narrow field, it is easy for PhD students to forget what it was like during the very early days of their degree, when acronyms and abbreviations were tossed around like confetti that they could never quite catch.
After a few years in research, PhD students and ECRs can sometimes forget how difficult it is to communicate with someone who isn't familiar with their niche research area. By the time they are defending their doctorate in a 'viva voce', PhD students have learned how to present their findings to their immediate colleagues, whether in writing in a journal publication or verbally at a conference. Since their undergraduate degrees, they have been taught to focus primarily on the technical details of their methods and results, saving a brief discussion of future work and impact for the last slide of the presentation. This approach works in academia but less so when discussing your research at a job interview or explaining how exactly you spend your long days in the lab to your friends and family.
While universities around the world are investing in skills training courses for PhD students11,12 and some PhD programmes include workshops in transferable skills like communication as part of their curriculum13, more could be done to develop these valuable skills and prepare students for a non-academic career.
What kind of exercises help PhD students to develop these skills?
For those universities, research foundations, and PhD programmes without their own research support training courses, Oxentia has developed customisable training programmes built around practical exercises and toolkits to help PhD students explain their work more effectively to wider audiences. These workshops culminate in a 3-minute pitch competition and are designed to show participants how they can better communicate with a non-specialist audience and bring together early career researchers from STEM subjects, the arts, humanities and social sciences.
Oxentia recently developed these exercises and toolkits and took them out on the road, working with 70 PhD students in Spain. Popular activities included the 'sprint toolkit', a series of short exercises that encouraged PhD students to move from their comfort zone of over-thinking before writing, instead focusing on quickly putting words to paper. At the end of the half-day exercise, participants each had up to six new and interesting ways to talk about their research.
Participants from a wide range of subject areas then put their first-draft 3-minute pitch to the test during a 'no-bell exercise', where jargon and acronyms are banned – or else they are met with the ring of a 'bell' from others working in different research areas. This experience helped participants understand the importance of knowing their audience and how to communicate complex concepts clearly without over-simplifying. These exercises all led up to pitch competition on the last day of the workshop, which followed a commonly used format where participants explain their work to their fellow researchers in 3 minutes.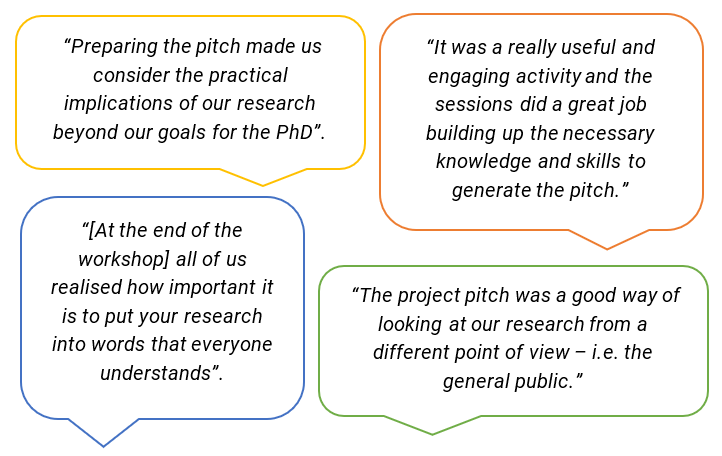 As the feedback in this figure shows, the workshops were very well received, and provided inspiration and new thinking for the participating PhD students. Our interactive exercises and toolkits enabled the researchers to think first about the audience and their requirements when communicating their research. The 3-minute pitch, so often used later in commercialisation  when raising finance, was seen as a key tool to communicate concisely and clearly the benefits of their research. The pitch should help them create maximum impact from their research and could be used in a job interview to illustrate how their academic background has prepared them for their future career.
Does your institution promote research communication? Do you think PhD students and ECRs would benefit from bespoke training on how to engage non-specialist audiences? Let us know if the comments on LinkedIn.
1 The Royal Society (2014), "The Scientific Century; securing our future prosperity", https://royalsociety.org/~/media/royal_society_content/policy/publications/2010/4294970126.pdf
2 Medium (2018), "Too many Ph.Ds not enough jobs why academia needs to be more selective", https://medium.com/@BonnieKGoodman/too-many-ph-ds-5941c07a9506
3 Beyond the Professoriate (2017), "Walking Away From Academia When It Was Your Dream Job", https://beyondprof.com/walking-away-from-academia-when-it-was-your-dream-job/
4 The Atlantic (2016), "Ever tightening job market for PhDs" https://www.theatlantic.com/education/archive/2016/04/bad-job-market-phds/479205/
5 Inside Higher Ed (2017), "The Shrinking Humanities Job Market", https://www.insidehighered.com/news/2017/08/28/more-humanities-phds-are-awarded-job-openings-are-disappearing
6 Nature, https://www.nature.com/articles/d41586-019-01087-9?utm_source=twitter&utm_medium=social&utm_content=organic&utm_campaign=NGMT_2_SJH_Nature
7 Australia's Industry Mentoring Network in STEM (IMNS), https://imnis.org.au/
8 Nature (2017), "Many junior scientists need to take a hard look at their job prospects", https://www.nature.com/news/many-junior-scientists-need-to-take-a-hard-look-at-their-job-prospects-1.22879
9 Inside Higher Ed (April 2019), "From the Basement to the Dome", https://www.insidehighered.com/advice/2019/04/29/navigating-time-change-phd-career-and-professional-development-opinion
10 Chip Heath and Dan Heath (2007), "Made to Stick: Why Some Ideas Survive and Others Die", Random House.
11 The UCL Doctoral Skills Development Programme, www.ucl.ac.uk/human-resources/learning-development/learning-and-development-portfolio/researcher-development/doctoral-skills-0
12 The University of Melbourne's Graduate Research professional development and training, https://gradresearch.unimelb.edu.au/developing-my-skills/development-and-training
13 University of Oxford's NERC-Oxford Doctoral Training Programme in Environmental Research, www.ox.ac.uk/admissions/graduate/courses/environmental-research?wssl=1