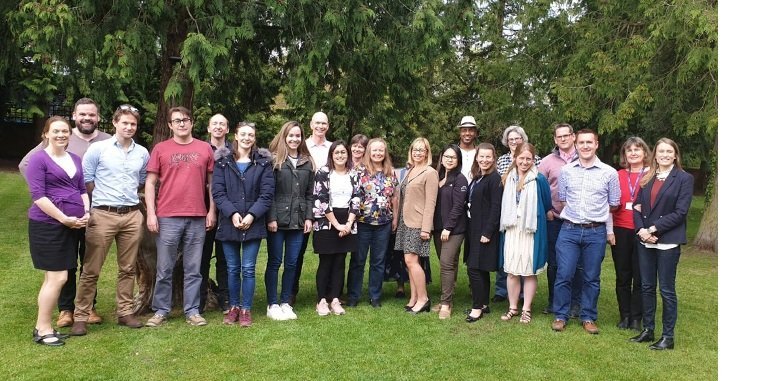 Benefits include:
25 days annual leave
A bonus scheme
A generous pension
Private medical and travel insurance
Cycle to work scheme
Discounted gym membership
Fresh fruit and snacks
Regular team lunches and social gatherings
Programme Coordinator
Full Time – Ref: Ox027
An exciting opportunity to join a growing innovation consultancy that provides innovation management, commercialisation services, entrepreneurship support and training for global clients. 
Oxentia Ltd is a successful global innovation consultancy with an annual turnover of over £3m, a team of 20+ highly skilled consultants, and is a key part of Oxford's innovation ecosystem. Oxentia delivers services to a worldwide customer base of public and private sector clients in over 70 countries.
Due to continued growth, we have a vacancy for a Programme Coordinator to join our team, working with public, and private sector clients in the UK and around the world. The role will report to senior management and will include:
Programme management for innovation and acceleration programmes run by Oxentia, with responsibility for ensuring logistics for programme preparation to delivery is executed to the highest standard.
Client relationship management and contributing to a strong team ethic by building key stakeholder relationships.
Working with colleagues to generate new business opportunities and develop new product ideas.
Manage and track client programme budgets ensuring all costs are monitored in 'real time' to ensure planning, forecasting is accurate, and margins are maintained.
Provide support and coordination for various company and client events, as required
The nature of this post will require flexibility to meet urgent work needs as they arise. This may entail some work outside normal office hours. The successful candidate will be expected to adopt a flexible attitude subject to the needs of the programme, as required. The role is based in Oxford but may also involve some national and international travel.
Essential Criteria:
Experience in programme, project, or event management
Advanced knowledge of project management software, processes, and administrative systems
Experience in establishing positive working relationships with senior stakeholders, managers, partners, clients, and colleagues
Excellent organisational skills, working on own initiative to meet deadlines, multi-task and maintain a high level of attention to detail.
The successful candidate will have a post graduate degree or equivalent experience.
Desirable Criteria:
Experience of knowledge exchange and/or commercialisation
Delivery of training for researchers and entrepreneurs
Experience in innovation management
Competitive bid and report writing skills
Interest in continuous improvement initiatives within the organisation, adopting latest innovations and technology to create and develop processes and new product development
Owing to the international nature of our work, foreign language skills (particularly Spanish) are strongly preferred.
Successful candidates will also need to demonstrate proven competence in:
Defining clear roles, responsibilities and accountabilities for programmes that align with organisational practice.
Managing stakeholders, considering their level of influence and particular interests.
Consolidating, documenting, and managing the fundamental components of programmes (scope, schedule, resource requirements, budgets, risks, opportunities and issues, and quality requirements).
Identifying, addressing, and resolving differences between individuals and/or interest groups.
Comfort in an uncertain environment with multiple moving parts.
Empowering and inspiring others to deliver successful programmes.
Willingness to support the business in other areas beyond this job description, including business development, marketing activity and sharing knowledge and expertise with the team.
How to apply
If you are interested in applying for this position, please send your CV and covering letter by email to careers@oxentia.com, quoting the reference Ox027.  Closing date for applications is midnight on the 17th August 2022.  First round interviews will be held on 25-26 August 2022. Strictly no agencies.  
Salary for these positions is commensurate with experience and will be in the range of £35,000 – £40,000 for a full-time role. Benefits include private medical insurance, bonus and pension scheme.
Oxentia Ltd is an equal opportunities employer and welcomes applications from all suitably qualified persons regardless of their race, sex, disability, religion/belief, sexual orientation or age.