ADVANCE is a six-week programme where researchers use their own projects to develop propositions for the market. Participants spend half a day each week working with sector experts through a combination of practical training, cohort activities, 1:1 mentoring and coaching.
Through ADVANCE, researchers develop mindset and skills for:
Effective stakeholder engagement
Market opportunity valuation, due diligence, and freedom to operate
Assess their proposition, iterate, pivot, and pitch it confidently to funders and partners
ADVANCE welcomes researchers from any disciplines with a basic business idea. No previous business work is needed to participate.
Join the ADVANCE programme
Where: Online
Delivery timeline:  Below is a summary of the topics and delivery timeline of the ADVANCE programme, with milestones for each month.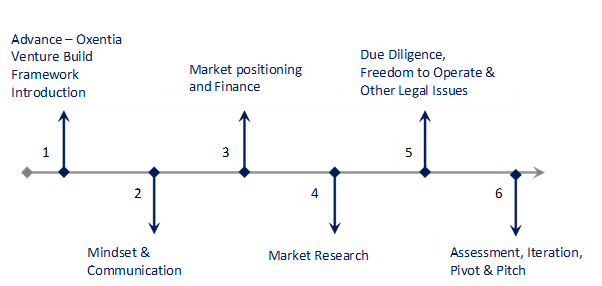 Who should attend: Researchers from all levels and disciplines with a basic business idea.
Application criteria: ADVANCE is offered to individuals on an open-enrollment basis, and to institutions as a bespoke service. If you are an institution and would like to talk about a tailored version of ADVANCE, contact us at info@oxentia.com.